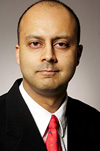 Orthopaedic and Trauma Services Limited offers a comprehensive medico-legal reporting service, by Professor Sanjiv Jari who is a fully trained, accredited and experienced Consultant Orthopaedic, Trauma and Sports Medicine Surgeon. Professor Jari has been undertaking medico-legal reporting since 1996, and is a member of the UK register of Expert Witnesses, The Association of Personal Injury Lawyers, where he is a 1st tier APIL member, and the Manchester & District Medico-Legal Society.
He receives instructions for reports on RTA injuries ranging from low velocity impact cases to multiple injury, high value, multi track cases. In addition, he prepares reports on trips, falls, slips and workplace injuries. Professor Jari has been undertaking Medical Negligence reports since 2005/6. He is receiving an increasing volume of instructions in alleged Medical Negligence cases. Further information and sample reports can be obtained by contacting Professor Jari's office.
Professor Jari's medico-legal experience includes soft tissue injuries to joints and the spine, ligament ruptures/tears, fractures, injuries to neck (including whiplash & low velocity whiplash injuries), back, arm, wrist, shoulder, hand, hip, knee, foot and ankle, surgical cases including hip and knee replacements, ACL reconstructions in addition to other surgical procedures. Professor Jari receives instructions from Solicitors acting on behalf of the Claimant, Defendant and as a Single Joint Expert.
Professor Jari has obtained the City University Experts Certificate Diploma in March 2007.
He has presented talks on Whiplash injuries to a number of large PI solicitors firms in 2007 and 2008.
He has also presented on the same topics at the annual medicolegal experts meeting organized by Premex in 2007.
Professor Jari has successfully completed Bond Salon's Part 1 of the Certificate of Medical Reporting: The Bond Solon Civil Procedure Rules Expert Witness Certificate – 2nd Dec 2012.
Professor Jari has also successfully completed Part 2 of the Certificate of Medical Reporting: Whiplash associated disorder – 28th Dec 2012
Our current waiting time from instruction to appointment is approximately 4-6 weeks dependent on appointment location. Once the client has been interviewed and examined, the report will be ready to be returned to the instructing party within 7 days
Orthopaedic and Trauma Services (OATS) Ltd is also able to offer a complete medico-legal service for solicitors including arranging imaging (MRI, CT, bone scans and x-rays), investigations (eg nerve conduction studies) and treatments (physiotherapy, joint injections, surgery, pain management) as directed by medico-legal reports by the solicitor's chosen experts.
OATS can also offer some flexible payments terms.
Please contact the Practice Manager on tel. 0161 445 9885
Download the Medical Report Questionnaire here